ECO-SPAN® Arch Bridges Deliver Big Savings in Indiana
I-69 is a multi-state interstate construction project passing through states from Texas to Michigan. In Southern Indiana, a new highway connecting Evansville and Indianapolis had long been desired. With this route now needed as part of I-69 and the Indiana Department of Transportation (INDOT) well funded, thanks to a lease on the toll road in the northern part of the state, construction on the new route was soon underway.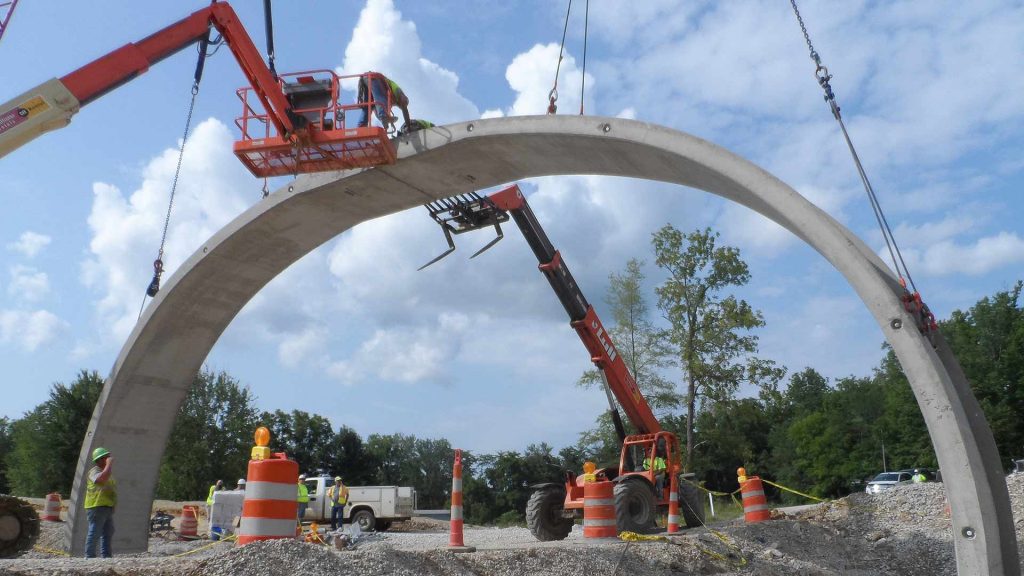 At the peak of construction in 2012, this was part of the largest contiguous new terrain interstate project in the United States.  The area's rugged, rolling topography brought many challenges, including the need to span small streams and local roads with large grade separations. INDOT and their consultants specified several precast concrete three-sided arch structures. The agency also approved cost-reduction initiatives (CRI) which allowed precast arch bridges to be used in place of conventional beam and deck bridges.
Nine ECO-SPAN® precast concrete arches, ranging in span from 12 to 54 feet, were selected by three contractors: ES Wagner Co., E&B Paving, Inc., and Milestone Contractors, LP. These structures provided the lowest initial cost and eliminated well over 100,000 sf of bridge deck from INDOT's inventory, saving future maintenance.
In addition to cost savings, safety was improved in three ways. First, the large drop at the edge of a bridge deck was replaced by a wider earth embankment. Nested traffic rail was installed outside the highway shoulders, replacing a bridge rail. Second, approach slabs are not required to connect a yielding embankment to a non-yielding bridge deck. This often results in a big bump at each end of a bridge that shifts loads and increases risk in slippery conditions. Third, bridge deck icing was eliminated along with the bridge deck.
The largest grade separation of the nine structures was achieved by a 30 foot span carrying up to 76 feet of earth cover, providing 88 feet from stream bed to top of roadway. It is not hard to imagine the size and expense of a conventional bridge that would have been required at this crossing.
The longest span on this project was a 54 foot underpass carrying a new ramp over a local county road. Originally designed as a prestressed concrete beam bridge with semi-integral abutments supported by driven piles, E&B paving submitted a successful CRI converting the crossing to an arch. The arch foundations bear directly on limestone bedrock, eliminating the need for driven piles.
The modular arch systems saved time for the contractors, with all components above the foundations built off-site and shipped in. The total cost of the arch components and end treatments was over $3 million.